Products and services
Nursery plants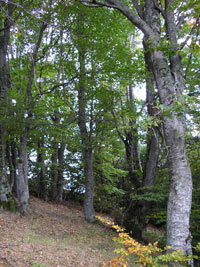 The intensive forest managing creates a need for renewal of used woods. Because of that the public enterprise Makedonski sumi in his structure has special organized areas for nursery plants in which high quality planting material of broadleaf and evergreen forests is produced. The nursery plants which are within the public enterprise Makedonski sumi are in conformity with the natural macro and micro conditions, orographic, climate pedologic, hydrologic and other conditions. The production process is performed by highly skilled and specialized full time and seasonal workers.
Annually 8.000.000 planting material with seed of separated seed material is produced in nursery plants of the public enterprise Makedonski sumi. The planting material production is performed in two ways, classic and container method. At container method seed is sown in containers (crates) filled with peat substrate, which afterwards is placed in stacks where special conditions are provided so that it can achieve higher percentage of growing of seed and can obtain more homogeneous planting material. This method produces planting material at age of one year (1+0) and taking into consideration that they are planted with substrate; the percentage of germination is greater than at the planting material produced by classic method. The classic production, when planting material is with bare root, is produced in nursery plant beds. The production is performed with seeds sowing in beds. The planting material created with this method is at age of two years (2+0) at evergreen forests and one year (1+0) at deciduous forests. When they achieve the demanded age they are extracted without clump of earth, they're packed and distributed at forest grounds where foresting is performed.
Container production is performed at the nursery plants in Sveti Nikole, Kumanovo, Strumica and Resen;
• Classic production is performed at the following nursery plants in Berovo, Delchevo, Kavadarci, Radovish, Kichevo, Ohrid, Prilep, Skopje and Resen.
Wood types which are produced are autochthon and alohton wooden types of special importance for forestry, and a smaller quantity of decorative wood types and bushes which find their use in landscape architecture are also produced. The decorative planting material is produced in nursery plants in Kavadarci, Strumica and Sveti Nikole, and are of evergreen and broadleaf wood types grown by their own production of raw materials (planting material, reaping).
Some of the type structure of forest planting material are the following: black pine tree, white pine tree, coast pine tree, spruce, fir, duglasia, Arizona cypress, Arizona arish, ash tee, maple, oak, acacia etc.
. Nursery plants within the public enterprise Makedonski sumi have the following subsidiaries:
| | | | | |
| --- | --- | --- | --- | --- |
| Ord.n... | Planting material producer |    location |  Surface he | Side elevation |
| 1 | WE Bor" - Kavadarci | "Marena" - "Krusha" | 10,0 he | 210 m.s.e. |
| 2 | WE  "Kumanovo" - Kumanovo | Rezanov vrbe | 4,0 he | 370 m.s.e. . |
| 3 | WE "Belasica" - Strumica | Prosenikovo | 3,9 he | 250 m.s.e. |
| 4 | WE "Forestry" – Sveti Nikole | Mavrovica | 12,0 he | 260 m.s.e. |
| 5 | WE "Prespadrvo" - Resen | | 2,4 he | 890 m.s.e |
| 6 | WE "Maleshevo"" - Berovo | Brdoslavica | 2,2 he | 830 m.s.e. |
| 7 | WE "Golak" - Delchevo | Delcjevo (in the city) | 1,2-1,5 he | 600 m.s.e. |
| 8 | WE "Plackovica" - Radovish | Podaresh, Plachkovica | 8,0 he | 350 m.s.e. |
| 9 | WE "Karadjica" - Skopje | Vrteshka-Kitka  | 0,6-0,8 he | 900 m.s.e. |
| 10 | WE "Lopushnik" - Kichevo | Kushino | 0,58 he | 790 .m.s.e. |
| 11 | WE "Galichica" - Ohrid | Karaorman | 0,5 he | 1000 m.s.e. |
| 12 | WE"Crn Bor" - Prilep | Prilep (in the city) | 2,0 he | 642  m.s.e. |